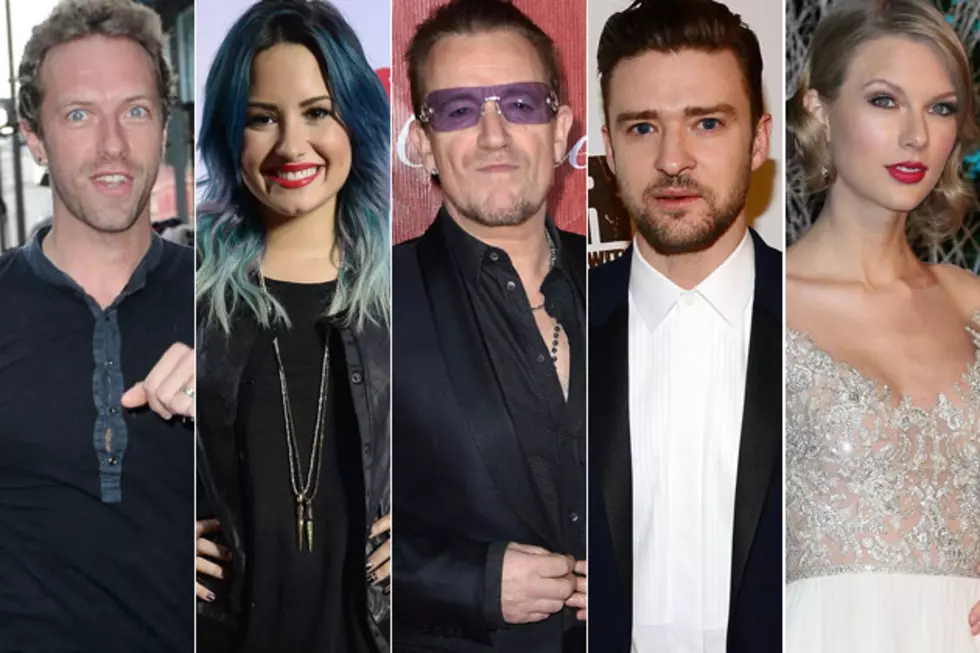 Who Should Win the 2014 Golden Globe for Best Original Song? – Readers Poll
Gareth Cattermole/ Gustavo Caballero/ Frazer Harrison/ Ethan Miller/ Chris Jackson, Getty Images
One of the best parts of a great movie is its soundtrack. We love when our favorite musicians pen tunes especially for films, and the 2014 Golden Globes are honoring the best of these songs. Tunes sung by Coldplay, Demi Lovato, U2, Justin Timberlake and Taylor Swift are all nominated for Best Original Song. Which song do you think should win the Golden Globe?
The second installment of the 'Hunger Games' franchise is just as epic as the first. Coldplay penned an emotional track that captures the intensity, sadness and defeat Katniss experiences over the course of 'Catching Fire.' However, the song emphasizes the overall theme of the series: Fighting for justice.
Former Disney darling Demi Lovato lent her talents to the animated movie 'Frozen.' (She sings the song in the movie's closing credits, while Idina Menzel sings it in the movie.) Whether it's sung by Demi or Idina, the track celebrates moving forward in life.
'Mandela: Long Walk to Freedom' chronicles Nelson Mandela's life through his election as president of South Africa. The journey was an uphill battle, as echoed in U2's song, 'Ordinary Love.' Frontman Bono told Deadline, "We just wanted to make it a very emotional moment to bring people back to the heart of the film, which is a human heart. That's more complicated than any political situation."
'Inside Llewyn Davis' is one of the rare movies that seamlessly incorporates its soundtrack into its plot. One such case is 'Please Mr. Kennedy,' a song performed by Oscar Isaac, Justin Timberlake and Adam Driver. Although the song was intended to be bad for the plot, it ended up being one of the movie's most memorable numbers. Justin penned the track alongside Ed Rush, George Cromarty, T-Bone Burnett, Joel Coen and Ethan Coen.
Taylor Swift has penned tracks for numerous soundtracks, but her contribution to 'One Chance' gives off serious '80s vibes. The movie tells the true story of a shy shop assistant who becomes an overnight sensation after winning 'Britain's Got Talent.' Taylor's 'Sweeter Than Fiction' captures this incredible transformation. After all, who pens a better narrative than T. Swift?
Which song do you think should win the Golden Globe? You can vote once an hour until the polls close at 7:59PM ET on Jan. 12.
Watch the Coldplay 'Atlas' Lyric Video
Watch Demi Lovato's 'Let It Go' Video
Watch the 'Ordinary Love' Lyric Video
Watch the 'Please Mr. Kennedy' Video
Listen to Taylor Swift, 'Sweeter Than Fiction'