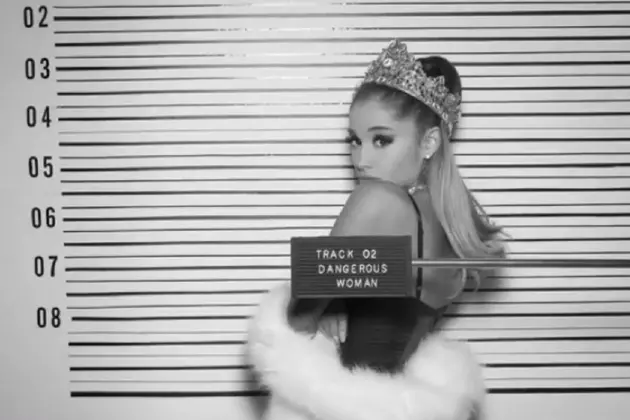 Ariana Grande Unveils 'Dangerous Woman' Track Listing
Instagram @arianagrande
Ariana Grande's third studio album, Dangerous Woman, is mere weeks away from release, and finally the pop diva has revealed the record's track listing. On her Instagram on Saturday (April 16), Grande posted a silent video featuring black and white photos of herself posing with the individual titles of each of the album's fifteen tracks.
In addition to the song titles, the post also unveiled the record's special guests, as well as which tracks they will be featured on: Nicki Minaj on "Side By Side," Lil Wayne on "Let Me Love You," Future on "Everyday," and Macy Gray on "Leave Me Lonely." The singer first shared back in March that the upcoming release would feature a handful of guests, including Grande's "Bang Bang" collaborator Minaj.
Last night's reveal also made it known that Dangerous Woman will open with a song called "Moonlight" — the former title of the album which she told Jimmy Kimmel back on January 14 would likely be exchanged for another track, even though "it's one of [her] favorite songs" recorded for the LP.
Ariana Grande will unleash Dangerous Woman on May 20. Check out the confirmed album track listing below:
1. Moonlight
2. Dangerous Woman
3. Be Alright
4. Into You
5. Side by Side feat. Nicki Minaj
6. Let Me Love You feat. Lil Wayne
7. Greedy
8. Leave Me Lonely feat. Macy Gray
9. Everyday feat. Future
10. Sometimes
11. I Don't Care
12. Bad Decisions
13. Touch It
14. Knew Better / Forever Boy
15. Thinkin' Bout You
Ariana Grande's Best Live Vocals: