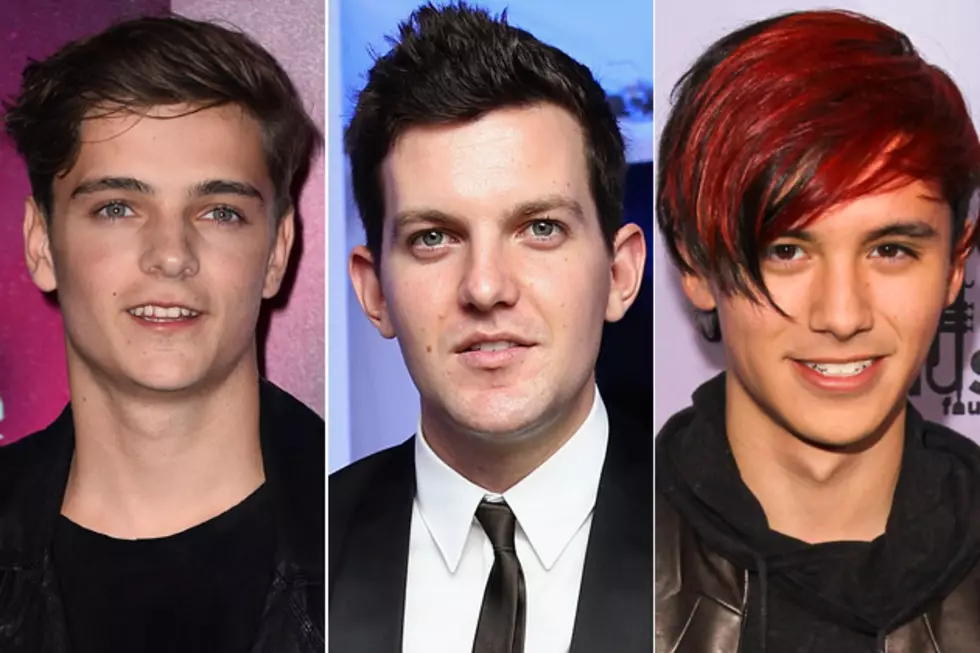 14 EDM Artists to Watch in 2014
Ian Gavan / Nellson Barnard / Rich Polk, Getty Images
Often labeled as the new "rock 'n' roll," the EDM genre has emerged from the smoke-filled trendy clubs and warehouse raves into mainstream media everywhere. With artists such as Avicii, Krewella and Calvin Harris releasing Top 40 singles, their influence and popularity will continue to grow in 2014. We've put together a list of 14 EDM artists and DJs who are the forefront of the genre and may just become the next superstars of the year.
Be sure to also check out all of these artists on our Beats Music playlist!
Dutch DJ Martin Garrix had one of the best years in 2013 and is considered EDM's most promising rising act. At only 17 years of age, Garrix reached international fame with the release of his catchy electro house single, 'Animals,' which recently hit over 150 million total views on YouTube. The young DJ credits a performance by Tiesto during the Athens 2004 Olympic Games as his inspiration to the genre. In November, Garrix signed with manager Scooter Braun (the man who famously introduced Justin Bieber to the world) as Braun's first EDM artist. Garrix has revealed that he has singles planned out into June 2014, and with his worldwide tour selling out in clubs everywhere, there's every reason to believe that Garrix just may be the next Avicii or Tiesto by the end of 2014.

The electric pop trio Cash Cash had a big year with the release of their first single under Big Beat Records, titled 'Take Me Home.' The upbeat anthem, which features the vocals of Bebe Rexha, climbed the club charts last summer and edged into mainstream success in the beginning of 2014. The N.J. trio -- which consists of brothers Jean Paul Makhlouf and Alexander Makhlouf, as well as Samuel Frisch -- have also remixed prominent hits for acts such as Cobra Starship, Icona Pop and Krewella.

Dillon Francis made a name for himself after his single 'Something, Something, Awesome' became a hit in 2012. Francis is widely credited as the artist who has popularized a branch of EDM known as "moombahton," which can be described as a mix of house music and reggaeton. His latest single, a collaboration with T.E.D. titled 'Without You,' earned him a spot on MTV Clubland's Artists to Watch in 2013. Francis has announced a new single titled 'Get Low' to be released this month as well as an untitled album due out some time in 2014.

19-year-old Hugo Pierre Leclercq is better known as his electro-house DJ name, Madeon, and is rapidly garnering international fame and acclaim for his unique style of electronic music. The French DJ released his debut EP in 2012 titled 'The City,' which consisted of just three singles and an additional two mixes. Audiences may not be able to identify the tracks by name but they likely have heard them via other pop culture means: 'Icarus' was used in the 'Dancing With the Stars' May 2013 finale;  'Finale' was featured in the popular EA Sports video game franchise FIFA '13, and 'The City' was used for the video game 'Need for Speed: Most Wanted.' Madeon toured with Lady Gaga as part of her Born This Way Ball Tour and also collaborated with the pop superstar on three tracks on her album 'ARTPOP.'

US-based DJ and producer BORGEOUS hit it big last year with the success of 'Tsunami,' a track he collaborated on with Canadian DJ DVBBS. The track ended up being crowned "the most played tune at [EDM festival] Tomorrowland" by Billboard Magazine. Born in Miami and now based in Los Angeles, BORGEOUS' tracks can usually be described as bass heavy house tunes designed to get an entire club jumping on their feet. With a new single titled 'Invincible' and a worldwide tour this spring, BORGEOUS will surely be one to watch in 2014.

Ayah Marar was born in Jordan before moving to the UK at the age of 18, where she began her career in music. Marar entered the UK dance movement as being a part of the drum and bass scene and later began collaborating with mega DJ and producer Calvin Harris in 2004. Marar collaborated with Harris by providing the vocals on many of his albums, including the hit 'Thinking About You' which has reached the Top 40 charts in the US. Marar released her first solo album last year, titled 'The Real,' and is currently touring her solo material with DJ Tenku.

British DJ and producer Duke Dumont began his career by remixing songs for acts such as Lily Allen and Missy Elliott starting in 2006. In 2012 he began work on his solo career, which eventually spawned the single 'Need U (100%),' which was released last year. The song featured vocals from singer-songwriter A*M*E and earned Dumont a Grammy nomination for Best Dance Recording. The video was equally as successful, having amassed over 14 million views on YouTube so far. Dumont has an untitled 2014 album coming, and the dance world is looking forward to hearing what comes next.

Hailing from Estonia, DJ and producer Syn Cole is relatively a fresh face in the EDM world but has already been picked up by megastar Avicii to join Avicii's Le7els record label. Cole described his sound to VIBE Magazine as "electro, funky and progressive." His first single 'April' was a No. 1 track on Beatport while his second track, 'Miami 82,' became a smash and was remixed by Avicii himself. Cole also remixed his own version of Avicii's smash 'Hey Brother,' currently on Top 40 charts in a number of countries worldwide.

Cazzette is a Swedish DJ duo, often grouped with Dada Life and Swedish House Mafia as being part of the Swedish EDM movement in 2012. Sebastian Furrer and Alexander Björklund began collaborating on music in 2011 and quickly distinguished themselves by creating their own fusion of the dance genre titled "dub house," a mix of the forms dubstep and house. Cazzette made a name for themselves by remixing beats by Avicii and Swedish House Mafia. Their single 'Beam Me Up (Kill Mode)' became a No. 1 dance hit worldwide in 2012 and 2013 and was the start of their international fanbase. Island Def Jam Records in the US signed the duo and are scheduled to play a few big shows in Las Vegas in 2014.

The Bloody Beetroots began in 2006 as an Italian electro house and dance group, but it's primarily a pseudonym for Sir Bob Cornelius Rifo, a producer from Italy. When touring, however, Rifo is often joined by Tommy Tea and usually performs wearing masks depicting Venom, a villain in the Spiderman comic books. The track 'Chronicles of a Fallen Love' was released in 2013 and became a mainstream club hit and their biggest single since 2010's 'Warm 1.9.' The group also released the album 'Hide' in the US in early 2014, featuring collaborations with Paul McCartney, Peter Frampton and Tommy Lee, and was also lauded for blurring the lines between rock and electronic.

The Aston Shuffle is a house DJ duo comprising of Mikah Freeman and Vance Musgrove. In 2009, they were voted the No. 3 DJs in Australia in the inthemix50 poll. In 2013, they began their year touring with Swedish House Mafia as part of their One Last Tour in Australia. In the United States, the duo released their first major single titled 'Can't Stop Now' under Universal Republic. The duo will be touring their home country of Australia in early 2014 and will be releasing their sophomore album at some point during the year.

At just 18 years of age, Cole Plante is one of the youngest DJs to emerge onto the scene. The young DJ began at the age of 12 when he started practicing mixing tracks and producing original music. Plante signed with Hollywood Records and began producing music for parent company Disney movies and television shows. He released his first major single, 'Lie to Me,' in 2013, and it featured EDM superstars Myon & Shane 54. The track became a big hit for Plante, having reached the top spot of number one on the Billboard Hot Dance Club Songs chart.

TJR, also known as TJ Rozdilsky, started out in the EDM world mixing techno and acid house but transitioned into the mainstream world, having made a name for himself performing at clubs in San Diego and Las Vegas. His track 'Funky Vodka' was a success in 2012, and rapper Pitbull invited TJR to use a sample of the song and collaborate with him on the track 'Don't Stop the Party,' which became an international mainstream hit. TJR continued touring around the world in 2013 and isn't expected to slow down in 2014.

Matan Zohar, better known as Mat Zo, released his first album 'Damage Control' in November of 2013. Zo jumped into the EDM world without wedging himself into any particular genre, dabbling in genres such as drum and bass, trance and progressive house. In 2013, his track 'Easy' with Porter Robinson reached number one on Beatport's website and received airplay on BBC Radio 1. Zo can be seen at EDM festivals worldwide, including Electric Zoo in New York and Creamfields in Australia.