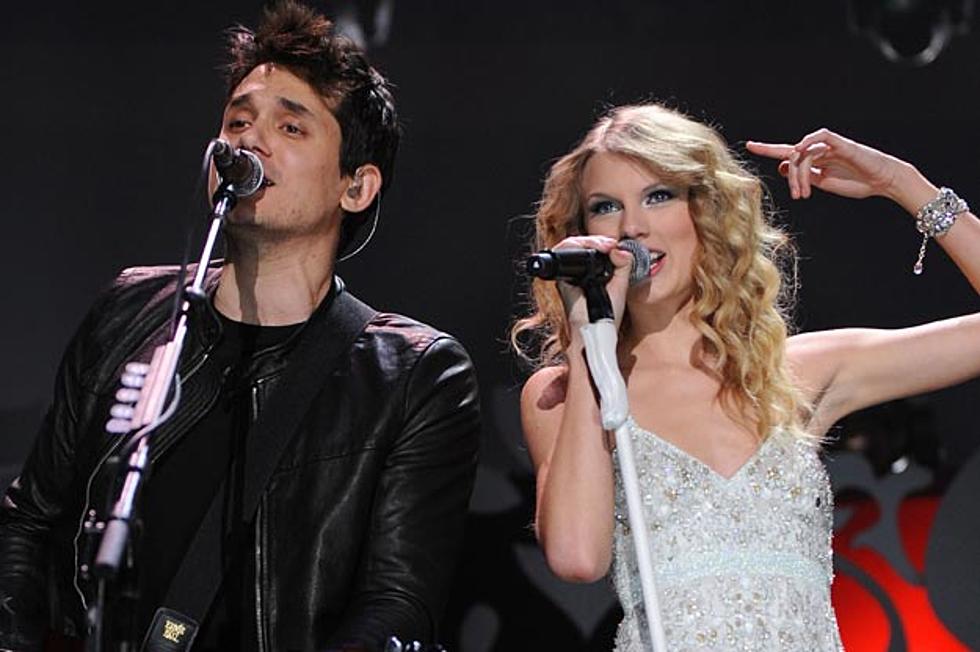 John Mayer Calls Taylor Swift's 'Dear John' 'Cheap Songwriting'
John Mayer has never been one to mince words in the press, especially about his exes, like Jessica Simpson and Jennifer Aniston. But turns out Mayer doesn't like it when the shoe is on the other foot. Taylor Swift allegedly penned the song 'Dear John' about him, which he has now deemed "cheap songwriting" and "a lousy thing to do." What goes around, comes around…
"It made me feel terrible," Mayer told Rolling Stone, in the issue that drops Friday (June 8). "Because I didn't deserve it. I'm pretty good at taking accountability now, and I never did anything to deserve that. It was a really lousy thing for her to do."
The song, which appears on Swift's mega-successful 'Speak Now,' includes the pointed lyrics: "Dear John, I see it all, now it was wrong / Don't you think 19 is too young to be played by your dark twisted games, when I loved you so?" Since the singers were romantically linked before the song was released, it was assumed that Swift, known for her confessional lyrics and for mining her love life as source material for her songs, was going after Mayer in the best way she knows how.
Swift also once said, "There are things that were little nuances of the relationship, little hints. Everyone will know, so I don't really have to send out emails on this one." Ouch. So much for subtext and euphemisms!
Mayer contends that the song is the only way that Swift communicated with him. She didn't call. She didn't email and as a result, he was thrown for a loop."I was really caught off-guard, and it really humiliated me at a time when I'd already been dressed down. I mean, how would you feel if, at the lowest you've ever been, someone kicked you even lower?" While we can relate, Mayer has said some pretty revelatory and embarrassing things about his former lovers in the media. He called Simpson a "sexual napalm" and criticized Aniston for not tweeting or being digitally minded, later telling a crowd of reporters they broke up because things weren't right.
Rather than just letting it go, Mayer retaliated by calling the song a cheap ploy, attacking Swift as an artist, saying, "I will say as a songwriter that I think it's kind of cheap songwriting. I know she's the biggest thing in the world, and I'm not trying to sink anybody's ship, but I think it's abusing your talent to rub your hands together and go, 'Wait till he gets a load of this!' That's bulls---."
Mayer stopped short of going any deeper, especially when questioned about that whole lyric that talks about messing with someone young, saying, "I don't want to go into that."
We wonder if Swift will take the high road or if she will even respond to these critiques of her songwriting. Something tells us she'll remain mum, since she already made her point in a song.
Listen to Taylor Swift, 'Dear John'