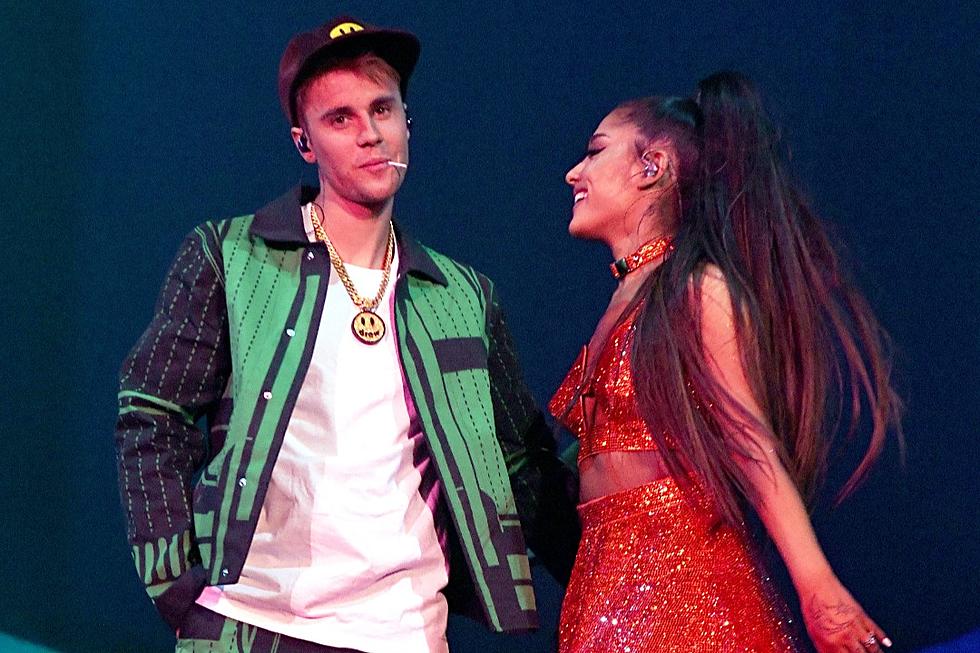 Justin Bieber and Ariana Grande Slam Reporter Who Made Fun of Bieber's Acne, Coachella Performance
Kevin Mazur, Getty Images
On Wednesday (April 24), Justin Bieber slammed E! News reporter Morgan Stewart on Twitter after she callously commented on Bieber's acne, as well as his apparent Coachella lip syncing, during a recent TV segment.
During the segment aired earlier in the week, Stewart criticized Bieber for his surprise joint performance with Ariana Grande this past weekend at Coachella. (The pair treated the crowed to an impromptu performance of "Sorry.")
Stewart called Bieber out for using a backing track during the concert ("I did not realize it was gonna be that bad," she gasped) and also said he "definitely looked like he put an "OXY pad on that forehead," a reference to acne.
On Twitter, Bieber hit back at the reporter — albeit gracefully — by asking why she can't use her platform to "make a difference rather than ... belittle people."
"Imagine if you spent even half the time you spend laughing at other peoples' expense actually building people up and encouraging people, how much positivity you could bring," he tweeted. "Think about how awesome it felt for me to be on that stage after being away for so long the excitement and joy it gave me doing the thing I love the most."
Bieber admitted he sang to a backing track "like most cameos do," adding, "Rather than try and make people feel accepted and loved, you find things to pick apart like the world isn't full of that already. We can find something negative to say about anything or anyone. When are we gonna be the kind of people that find joy in adding value to one another and not tearing each other apart?"
Grande also jumped in to defend Bieber, tweeting, "People look so ugly when they talk about other people like this, it's crazy. No matter how pretty you are or how long [you] spent getting ready, [you are] ugly to me now."
The Thank U, Next singer also revealed that the collaboration came together only ten minutes before she began her set, explaining that there was no soundcheck or prep whatsoever, so it only made sense for Bieber to sing atop a backing track.
See all of the tweets from Bieber and Grande, below.
Celebrities Who Found Religion