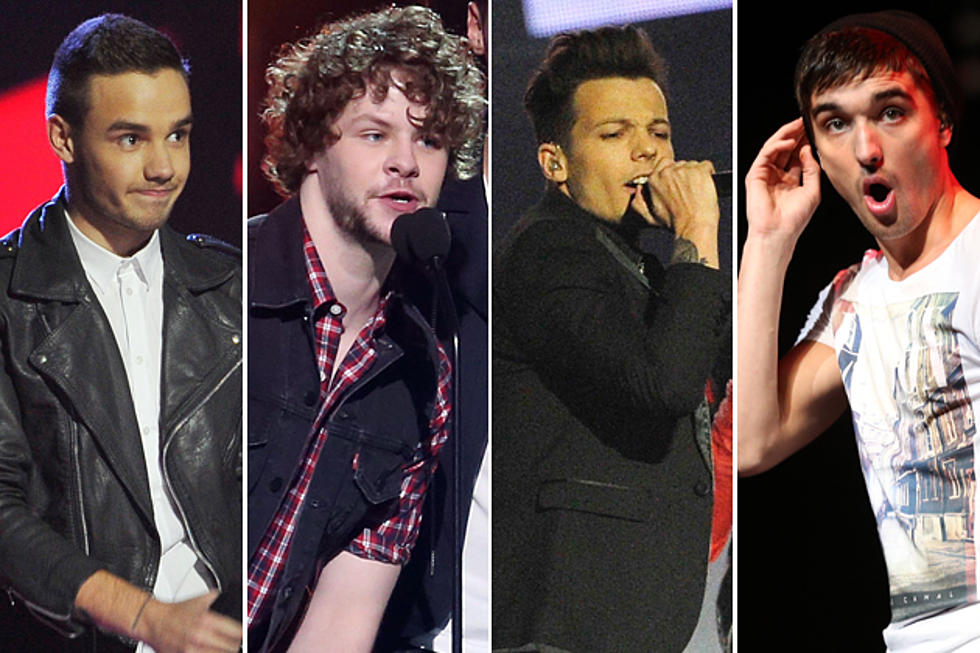 One Direction Battle the Wanted on Twitter … Again
Matt Kent / Frederick M. Brown / Matt Kent / Christopher Polk, Getty Images
Stop us if you've heard this one before: One Direction and the Wanted got into a tiff. On Twitter. And took it way too far and got really obnoxious instead of acting like their normal, adorable, precious selves.
Who started it this time?
It looks like Louis Tomlinson was behind the current Twitter war, but it's not entirely clear -- because Tom Parker of the Wanted erased all of his drama from his timeline. In any case, Tomlinson tweeted a link to an article in which Parker lamented on his failed 'X Factor' audition. If you'll recall, the U.K. 'X Factor' is what put 1D on the map, so it was a smug move on Tomlinson's part:
While Parker's replies have been deleted, screenshots are forever. He responded with the following video of Tomlinson's audition, accompanied by the comment, "You were too busy wowing the judges with THIS."
And then Liam Payne joined in for reasons we'll never quite understand -- but Parker responded in a pretty classy manner:
Parker then responded to Tomlinson's comment about the Wanted appearing on the soundtrack to '1D 3D: This Is Us' by saying, "Hmm @Louis_Tomlinson I'd love to make the soundtrack to 'Mean Girls 3.'" Of course, Parker was referencing Tomlinson's drama, but he sort of backed into Tomlinson's response:
Tomlinson is also very self-aware of the attention all of this will garner:
Parker then responded by insinuating that Tomlinson is gay, writing, "I'll enjoy the press even more when you come clean. #narnia #itgetsbetter." Sheesh! Tomlinson replied:
Jay McGuiness of the Wanted got involved at this point as well. McGuiness, who never really (at least publicly) had anything bad to say about One Direction, genuinely seemed to just want to put the nonsense behind them. McGuiness seems to only have beef with Tomlinson, not the rest of the group, which is pretty telling. He tweeted the following missive:
"Dear @Louis_Tomlinson,

Please stop mentioning us in your gigs, we certainly no longer mention you and it's time to let dead dogs lie. Your passive aggressive style of speaking makes me cringe, and I wish you'd either have the bollocks of some of your co-workers to speak truthfully, or the class of the majority of them to be silent.

I'm not sure what's happened since we saw you at the 'X Factor,' but you've done a sterling job of becoming one of the most overrated, arrogant and not to mention insincere people around. Your shocking lack of talent will only be forgiven by lots of humility and no-strings-attached friendship among your band. Louis, don't measure your worth in followers or money, because they're fickle, and when they go you might just feel worthless."
Yowza! Of course, Tomlinson didn't cater to McGuiness' request, and responded thusly:
Eventually, both he and Parker got bored of the stupidity:
But we doubt it's going to last long!
Watch the Wanted 'All Time Low (the Live Experience)' Video