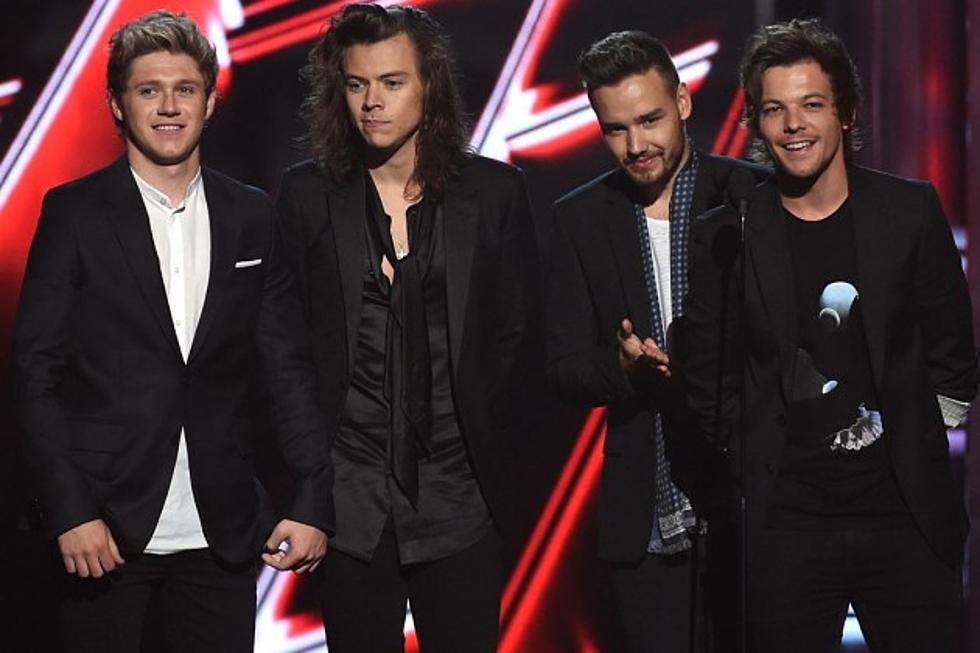 One Direction May Take Break Following Fifth Album
Ethan Miller, Getty Images
Update, June 5: A publicist for One Direction has responded to dispel the rumors of a break, (via BBC Newsbeat): "The story is all pure speculation and not based on any facts.The band are due to record. They're excited about their brand new fifth album and their upcoming tour."
Harry Styles also used the word "excited" about five times in this week's interview with Ryan Seacrest, so this is the official 1D party line. The original story appears below.
2015 has been a rough year for One Direction fans. Not only did they receive a metaphorical knife to the chest in the form of Zayn's sudden departure, but the blade only continued to twist when he got into a public Twitter feud with former member -- and, perhaps, former friend -- Louis Tomlinson, shattering the oft-perpetuated illusion of a united front behind-the-scenes. While the remaining four band members have vocalized a continued desire to keep the money-train going, it looks like the end of One Direction may be drawing ever closer.
According to an article by UK tabloid the Sun, the group will take an extended break upon completion of their fifth studio album -- set to be released later this year. A source close to the boys' camp reportedly told the Sun, "The band are to go on a break after promoting the fifth album next year, possibly with a number of live dates around the world."
Simon Cowell is reportedly onboard with the notion of a break, with the source continuing, "Simon Cowell is supportive of what they need to do because he wants the band to stay together in some form for a very long time."
The source goes on to say, "They have been working together non-stop for five years, sold millions of albums and become some of the biggest celebrities in the world. At this point they have to take time off to step back and consider what they want to do next."
Put succinctly: "What's almost certain is there will be no 1D music next year."
To be fair, no one from One Direction has officially made an announcement about said break, though it wouldn't be surprising if they did take one. It's true that five years straight of a touring and recording schedule as intense as One Direction's would cause anyone to burn out -- for a recent example, look no further than Zayn Malik. But it's also true that any extended break a boyband takes usually signifies an End-of-Days of sorts for the group, which would result in a cataclysmic disaster for the rest of us, feelings-wise. Once more we beg the question: Who's gonna be the first to say goodbye?
You can read the full article on Tumblr.
See One Direction Through the Years