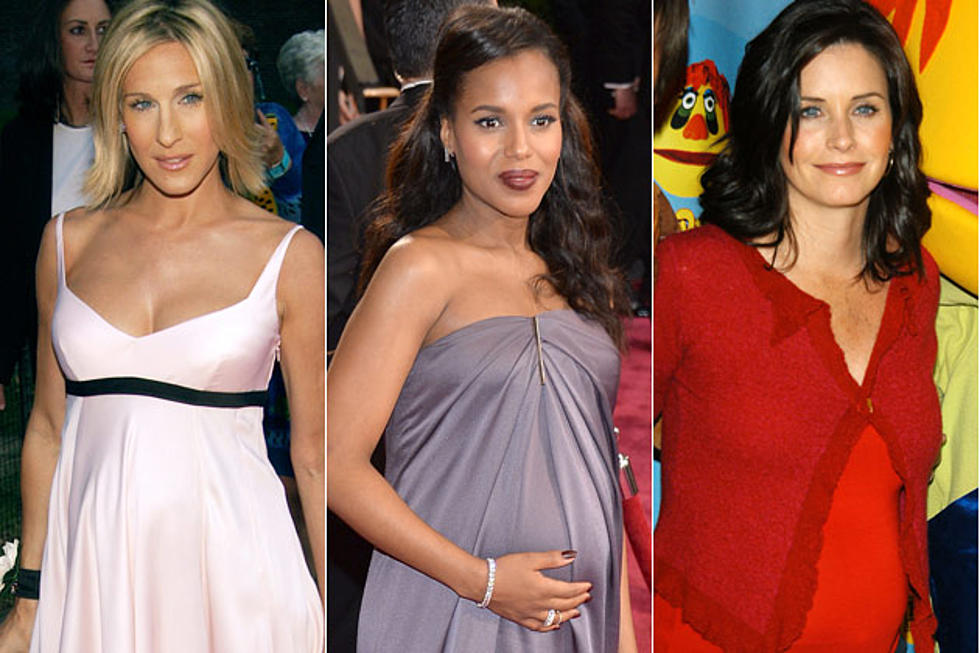 19 Celebrities Who Were Pregnant While FIlming
Lawrence Lucier/ Michael Buckner/ Stephen Shugerman, Getty Images
Many actresses transform their appearance when they take on a role. One thing the ladies can't easily hide? Being pregnant!
Some of our favorite TV and movie actresses sported growing baby bumps -- even when their characters weren't expecting. How Hollywood disguised the bellies become a job in itself, as the characters did everything from standing behind furniture to wearing baggy clothing to, yep, getting a pregnancy written into their storyline.
We took a look at the biggest on-screen "hidden" pregnancies and the strategies behind hiding the baby bumps! Check it out in the photos and videos below.
Kerry Washington, 'Scandal'

When Kerry Washington announced she was pregnant, 'Scandal' tried every trick in the book to hide her baby bump. The fashionable Olivia Pope took a penchant for structured, trapeze jackets and for standing with her back to the camera.

Sarah Jessica Parker, 'Sex and the City'

Petitie Sarah Jessica Parker disguised her growing baby bump by wearing billowly clothes. Her character, Carrie Bradshaw, even managed to attend a pool party while keeping the pregnancy hidden! (Skip ahead to the 3:12 mark to see for yourself.)

Alyson Hannigan, 'How I Met Your Mother'

For much of Alyson Hannigan's pregnancy, she obscured her belly behind purses and coats. However, in one memorable episode of 'How I Met Your Mother,' the writers embraced the actress' baby bump, creating two scenes in which Alyson's character competes in a hot dog eating contest and consequently supports a much rounder stomach!

Cobie Smulders, 'How I Met Your Mother'

Cobie Smulders revealed she was pregnant shortly after her co-star, Alyson Hannigan, announced she was expecting. Cobie's character mostly camouflaged her belly behind layers of clothing, like in this scene from season four.

Ellen Pompeo, 'Grey's Anatomy'

When Ellen Pompeo became pregnant in 2009, her character, Meredith Grey, was not. Hospital scrubs can only hide so much, so eventually Meredith donated part of her liver in order to give Ellen some time away.

Reese Witherspoon, 'Vanity Fair'

Although Reese Witherspoon was pregnant with her second child during the filming of 'Vanity Fair,' she managed to disguise her growing stomach. According to PEOPLE, the movie's 1820s setting helped her hide the bump! Reese wore voluminous dresses and, when necessary, stood behind pieces of furniture.

By the time Courteney Cox became pregnant, her 'Friends' character had already been unable to conceive. Since the writers couldn't work the pregnancy into the series, the actress camouflaged her baby bump under clothes. However, at times (like this scene from the final episode of 'Friends'), viewers could still detect it.

Betsy Brandt, 'Breaking Bad'

In the early seasons of 'Breaking Bad,' one of the actresses was pregnant ... and one was playing a pregnant character! In real life, Betsy Brandt was expecting, but on-screen she carefully hid her baby bump -- most of the time. Later in her pregnancy, her belly was used for close-up shots for Anna Gunn's character, who was also expecting.

Julia Roberts, 'Ocean's Twelve'

'Ocean's Twelve' embraced Julia Roberts' pregnancy in a clever on-screen method. In the movie, Julia plays George Clooney's wife, Tess, who gets roped into one of his cons. During the bit, Tess pretends to be a famous actress -- Julia Roberts! Since Julia was actually pregnant at the time, Tess had to "pad" her stomach, but in reality, the actress was just flaunting her baby bump!

When January Jones became pregnant during the filming of season 5 of 'Mad Men,' the writers addressed her growing baby bump by having her character gain weight -- everywhere! Betty Draper spent the season significantly heavier than before and, conveniently, hiding a pregnancy.

Kelly Rutherford, 'Gossip Girl'

Pregnancy was not in the cards for Kelly Rutherford's 'Gossip Girl' character, so when the actress announced she was expecting, the TV show employed all of the traditional methods to hide it. In this clip, Kelly employs two of cinema's tricks: wearing loose clothing and obscuring her baby bump with shopping bags!

Debra Messing, 'Will & Grace'

When Debra Messing became pregnant during the filming of season 6 of 'Will & Grace,' the TV show used the tried-and-true method of dressing her in billowy clothing. (As evidenced in this video. Skip ahead to the 3:50 mark to see the actress' bump in action!) To accomodate Debra's pregnancy, her character was absent for five episodes of the season.

Halle Berry, 'X-Men: Days of Future Past'

There was no easy way to disguise Halle Berry's baby bump when the actress filmed 'X-Men: Days of Future Past.' Her character's skin-tight costume left little to the imagination, as you can see in this 'X-Men' teaser. As a result, the actress told Total Film she wasn't in the film as much as she wanted to be.

Jenna Fischer, 'The Office'

'The Office' reacted to Jenna Fischer's baby news by scripting not one, but two, pregnancies! Jenna's character, Pam, happened to be pregnant at the same time as the actress. Another character, Angela, was given a baby arc, although Angela Kinsey was not pregnant in real life.

Amy Poehler, 'Parks and Recreation'

When Amy Poehler became pregnant during the filming of season 2 of 'Parks and Recreation,' the show changed its production schedule to accommodate her! Rather than write the pregnancy into the show, 'Parks' hid Amy's baby bump and started filming season 3 immediately after season 2 in order to give her a break when she had her son.

Helena Bonham Carter, 'Sweeney Todd'

Helena Bonham Carter was pregnant during the filming of 'Sweeny Todd,' although you'd hardly notice! The movie was shot out of sequence, so at some parts her corset was enough to disguise her bump. However, the actress confessed to WENN (via Contact Music) that she was often nauseous while on-set.

Julia Louis-Dreyfus, 'Seinfeld'

'Seinfeld' adopted traditional methods to hide Julia Louis-Dreyfus' pregnancy in season 3 of the hit show. The actress told Vulture that she often carried items that covered her baby bump, and in this clip you can see her hiding it behind a block of knives.

Claire Danes filmed season 2 of 'Homeland' while pregnant, later telling the Hollywood Reporter it was the most physically demanding thing she's done on-screen. The show filmed around her baby bump, often shooting Claire above the waist and from behind.

When Jane Leeves became pregnant around season 8 of 'Frasier,' the writers addressed her physical transformation by having her character gain a lot of weight. So much, in fact, that it became a plot point and Jane was absent from the show when she went to a spa to get healthy -- but in real life the actress was on maternity leave!