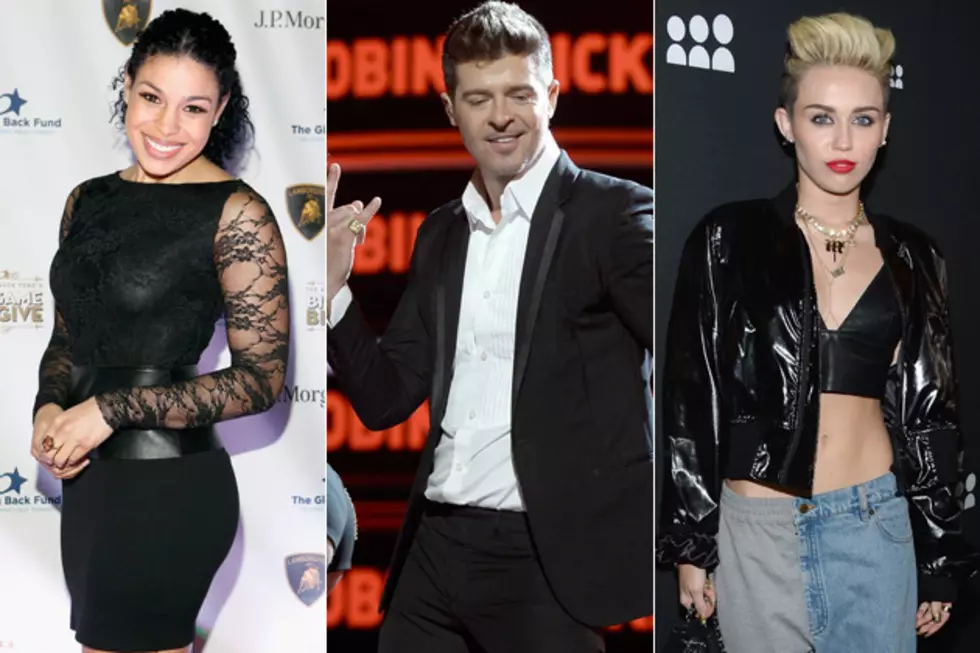 10 Stars Who Were Born Rich
Cindy Ord / Kevin Winter / Jason Kempin, Getty Images
While many celebrities have started from the bottom and worked their way up, there are some lucky stars who were born rich. Racks on racks on racks for "silver spoon" celebs like Jordin Sparks, Robin Thicke and Miley Cyrus, whose parents were all famous in their own right before giving birth to their kids who would eventually become famous.
Other celebs who were born rich include Ariana Grande, whose dad has built a very successful design company over the years, as well as Psy, who actually hails from the affluent town Gangnam, a place he is known to sing about from time to time. Check out these 10 Stars Who Were Born Rich and find out where all that family moola came from.
Ethan Miller, Getty Images

Ethan Miller, Getty Images

1

Adam Levine may have built up quite a prolific brand for himself in recent years as the singer of Maroon 5, a twice-winning coach on the ratings hit 'The Voice,' a designer of his own clothing line for Kmart and the purveyor of his own his-and-her fragrances. But he got a head start as the son of Fred Levine. The tattooed singer's father founded M. Fredric, a retail clothing chain. Levine also met two of his Maroon 5 bandmates while attending the well-known private Brentwood School.

Alberto E. Rodriguez, Getty Images

Alberto E. Rodriguez, Getty Images

2

Ariana Grande has plenty of pocket change on her own, thanks to acting gigs (she plays Cat Valentine on 'Victorious' and 'Sam & Cat') and her blossoming recording career. However, her parents are pretty well off, so we doubt their famous daughter needs to help them out.

Her father, Edward Butera, is the CEO of a successful design company, Ibi Designs Inc., based out of Boca Raton, Fla. He has clients such as FAO Schwarz and Eddie Murphy on his resume, but 'The Way' songstress usually credits her mama, Joan, for her hard work ethic.

Gareth Cattermole, Getty Images

Gareth Cattermole, Getty Images

3

Although there isn't a ton of info on Cassie's parents, we do know that the model/singer grew up in New London, Conn., which isn't really a "rich" town, per se. However, Cassie attended a very pricey (upwards of $26,000 a year), private prep school, which leads us to believe that her Filipino-American father and Mexican/African-American mother had some extra bills to spend.

Seriously, that is like college tuition status! Hopefully Cassie learned a lot during her high school years...

Astrid Stawiarz, Getty Images

Astrid Stawiarz, Getty Images

4

While there is no concerete evidence on the exact income of Ed Sheeran's family, we think it's fair to say that 'The A Team' singer didn't face any impoverishment as a kid growing up in the picturesque market town of Framlingham.

Both of his parents are successful artists -- his father, John, is an art curator and a lecturer, while his mother, Imogen, makes jewelry (she was formerly a publicist). The Sheeran patriarch and matriarch also ran the independent art consultancy, Sheeran Lock, for 20 years.

Slaven Vlasic, Getty Images

Slaven Vlasic, Getty Images

5

Darren Criss has known all about the Benjamins since a young age. The 'Glee' star's pops is not only a banker, but was also on the Board of Directors for the San Francisco Opera -- a post you achieve only when you've opened your pockets quite a bit.

But Darren's dad, Charles, isn't just a some Average Joe banker -- he moved his family to Hawaii for a few years so he could start and act as the Chairman and CEO of EastWest Bank. Ballin'!

Frederick M. Brown, Getty Image

Frederick M. Brown, Getty Image

6

Even though Jordin Sparks made a name for herself after winning Season 6 of 'American Idol,' becoming the youngest champ in the show's history, she still had it pretty good in the money department before hitting it big.

Jordin's dad is Phillippi Sparks, a former NFL cornerback who played for the N.Y. Giants and the Dallas Cowboys, while her mother, Jodi, is an entrepreneur. Good for Sparks for not using her dad's football fame to get her foot in the door. The 'No Air' songstress worked hard to get where she is today!

Ethan Miller, Getty Images

Ethan Miller, Getty Images

7

Mike Posner likes to play up his humble Detroit roots, but the 'Cooler Than Me' crooner was actually raised in the affluent suburb of Southfield, Mich., where an annual income for a family of four clocks in around $115,000 a year.

Posner, the son of a lawyer, also went to college at the prestigious Duke University, where tuition runs about $56,000 a year. And we don't hear him singing 'Cooler Than Sallie Mae,' either.

Tim P. Whitby, Getty Images

Tim P. Whitby, Getty Images

8

Psy is actually from the Gangnam District of Seoul, South Korea, the same place he's singing about on that hit song of his. Gangnam is one of the wealthiest areas of Seoul -- basically the Beverly Hills of the South Korean capital. (Does 'Gangnam Style' make a lot more sense to you now? Psy wants a lady who enjoys the finer things in life!)

Psy's family, like most in the Gangnam District, is very comfortable. His father, Park Won-Ho, is the executive chairman of DI Corporation, while Psy's mother, Kim Young-hee, is a restaurant owner.

Frazer Harrison, Getty Images

Frazer Harrison, Getty Images

9

When Miley Cyrus was born in Nov. 1992, her dad's earworm 'Achy Breaky Heart' had hit No. 1 on the Billboard country charts and No. 4 on the Billboard Hot 100. Needless to say, you don't have such far-reaching success (1.4 million copies of 'Achy Breaky' sold) as a singer without making a little scratch.

If Miley didn't have the nest egg of Billy Ray (his net worth is an estimated $50 million), she may have never had the chance to build her own empire, starting with Disney's 'Hannah Montana.'

Frederick M. Brown, Getty Images

Frederick M. Brown, Getty Images

10

Did you know that Robin Thicke is the son of Alan Thicke, aka Dr. Jason Seaver from 'Growing Pains'? For all of you who didn't make that connection until now, we'll give you a second to collect yourself.

Additionally, Thicke's mother is former soap actress Gloria Loring. While her role on 'Days of Our Lives' isn't as celebrated as her former hubby's role as Dr. Seaver, one thing seems certain: The 'Blurred Lines' singer never had an empty wallet growing up.