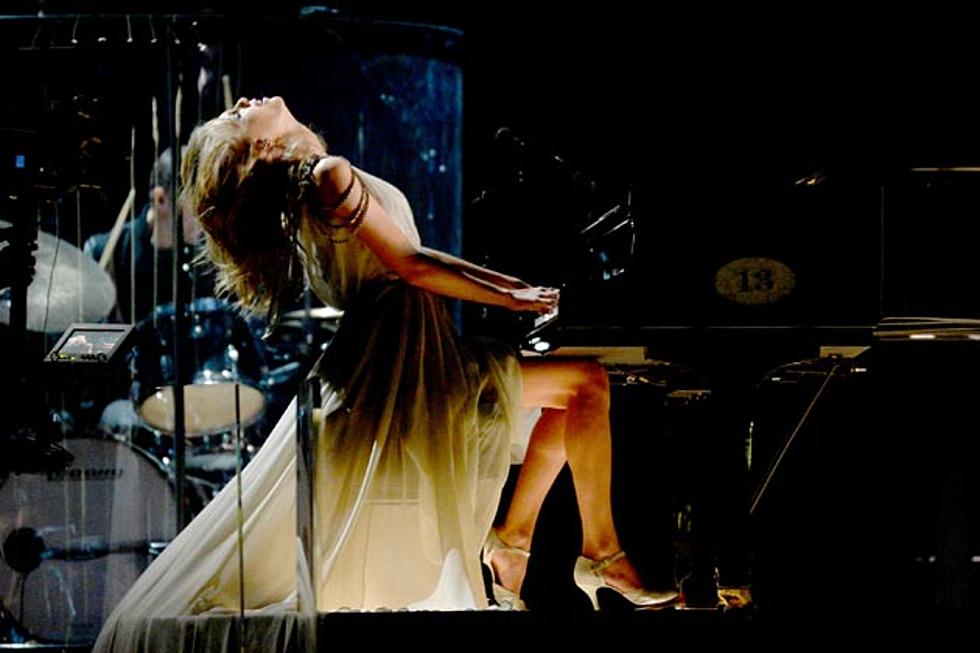 Taylor Swift Wows Us From Behind the Piano While Performing 'All Too Well' at the 2014 Grammys [VIDEO]
Kevork Djansezian, Getty Images
Taylor Swift put away her trusty guitar and instead tickled the ivories and played piano for her power ballad 'All Too Well' at the 2014 Grammys (Jan. 26). She was seated behind the piano for the entire performance, but that didn't stop or deter her from rocking out.
T. Swizzle wowed us with an unforgettable performance that saw her practically banging her head as she thrashed about from side to side. We're used to seeing her knuckle down on her guitar or dancing and doing the signature stage pose where she leans back and holds the mic high in the air.
But here, she demonstrated her larger-than-life talent in a totally different way.
She looked absolutely angelic in a loose, flowing grey gown. But there was a fire in her belly and in her eyes as she performed the song. Swift is about as femme and girly as it gets, but there was a sharp and sexy edge to her performance this evening.
'All Too Well' is reportedly about her famous ex, actor Jake Gyllenhaal. But who cares about the handsome hunk when T. Swizzle is delivering a performance in such a fashion that it felt like her life depended on it? She funneled all the anger and hurt into her delivery.
Swift is a gifted piano player and totally impressed us with her deftness with the instrument tonight. She can do no wrong.