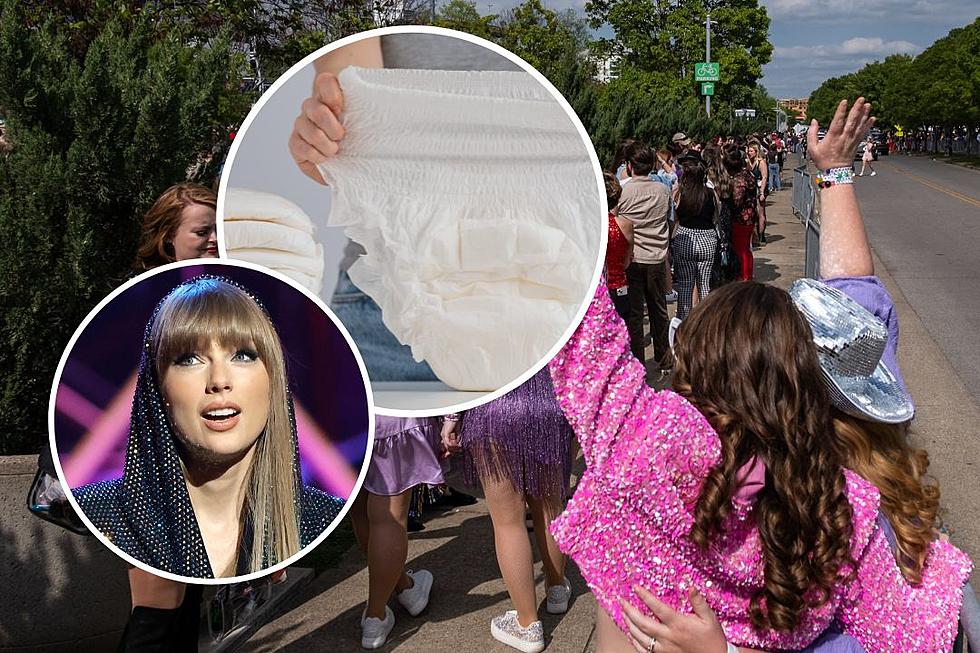 Taylor Swift Fans Claim They're Wearing Adult Diapers to Eras Tour so They Don't Miss Any of the Concert
ThinkStock / Kevin Winter / Seth Herald, Getty Images
Taylor Swift fans understandably don't want to miss a single minute of seeing the pop star on stage. However, some Swifties are so dedicated that they claim they wear adult diapers to Swift's concerts so they don't have to take bathroom breaks and miss any of the singer's precious set.
On TikTok, several fans claim they have worn or plan to wear a diaper to Swift's Eras Tour so that if they have to, well, go, while Swift is on stage, they don't have to wait in a long bathroom line, let alone even leave their seat.
One since-privated viral video shows a fan putting on an adult diaper under a shimmery gold dress inspired by one of Swift's iconic Speak Now World Tour looks.
Her friend helps and laughs as she fastens it and claims the brand is listed as one of the "most durable."
In another video, a fan shows a screenshots of an adult diaper brand available on Amazon and explains why she plans to wear one to The Eras Tour in Houston, Texas.
READ MORE: Can Taylor Swift Control the Weather? Nashville Fans Sure Think So
"With the amount of stress and time it took me to get Taylor Swift tickets, I will be getting an adult diaper 'cause I'm not missing a minute of it," she says.
In another TikTok clip, a fan explains they were initially planning to take bathroom breaks around Swift's set list, but "now that Taylor is being 'tricksy' I might just have to work an adult diaper into my outfit."
Set to an audio clip of "I Bet You Think About Me," a separate TikTok shows a girl mouthing Swift's iconic "Oh my God, she's insane" lyric as she quotes her friend as saying they "need to wear diapers to The Eras Tour so we don't miss any of the show."
"No one knows I'm wearing a diaper for this," another fan wrote in a since-deleted TikTok video filmed at The Eras Tour.
It's unclear if some of these fans are just joking, but we have a feeling Swift would encourage fans who are able to use the nearest restroom if they need to relieve themselves while she's performing. Diaper rash just isn't worth it!
Pop Stars Who Took a Country Music Detour