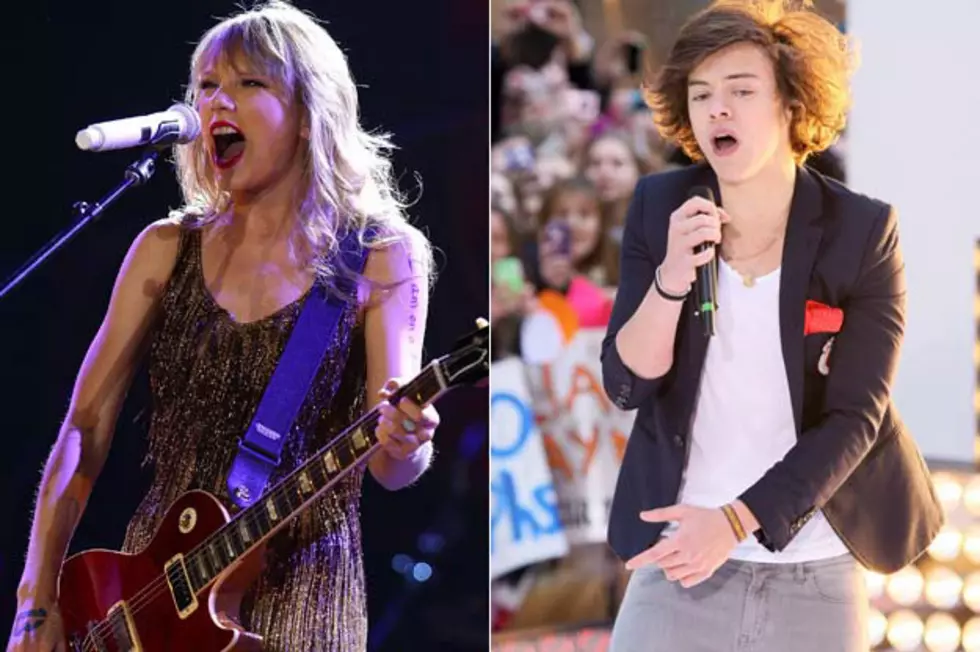 Is Taylor Swift Crushing on One Direction's Harry Styles?
Taylor Swift is music's most eligible bachelorette, but the singer is supposedly nursing a crush on none other than One Direction member Harry Styles. 
Swift reportedly started crushing on Styles upon meeting the band at the Kids' Choice Awards last month. But this isn't all speculation. Swift's pal Justin Bieber, who dates her BFF Selena Gomez, sort of blew the whistle, saying that "one of the world's biggest artists" has the hots for Harry and word quickly spread that it's Swift.
Here's the backstory. According to the Press Association, a source said, "Taylor is a huge One Direction fan and was excitedly bopping along to the boys when they performed on stage [at the Kids' Choice Awards.] Then she was chatting to Justin and told him how hot she found Harry."
At the KCAs, Taylor reportedly popped by the boys' dressing room to say hello. "She really likes Harry but made Justin promise not to go on the record about it," the insider said. Well, The Biebs certainly opened his mouth, even if he didn't exactly reveal who it is that is digging on HS.
Styles' rep insists he is single and we all know about Swift's romantic status, so perhaps the time is right for these two to hook up.