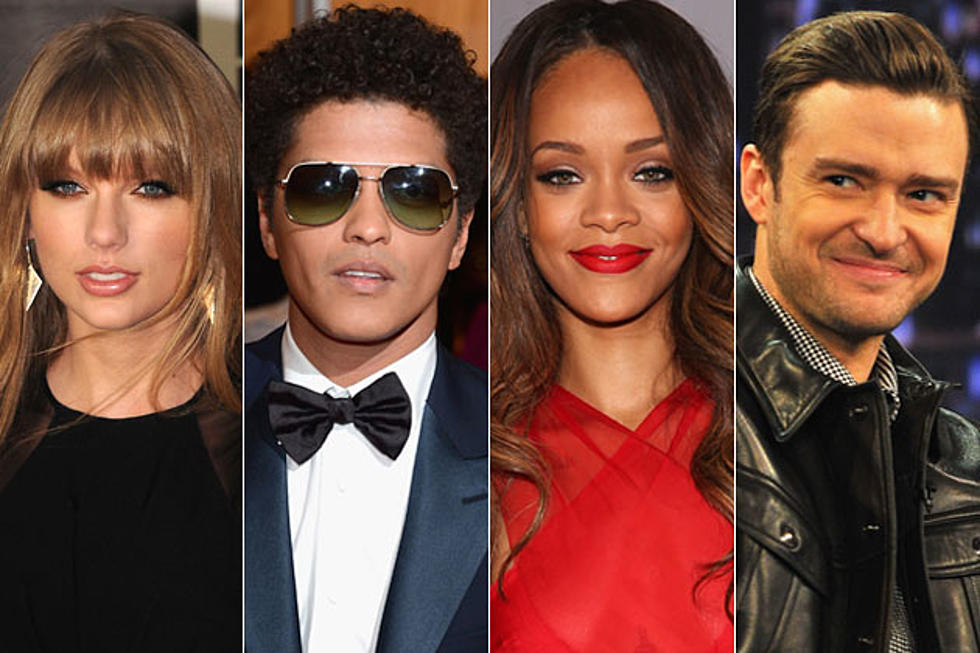 Eamonn McCormack / Dimitrios Kambouris / Christopher Polk / Theo Wargo, Getty Images
Now that 2013 is over, we're taking a look at some of the best music released this year.
Summer gave us some major smashes, including Robin Thicke's 'Blurred Lines' and Daft Punk's 'Get Lucky.' Fall brought in more hits, like Miley Cyrus' 'Wrecking Ball' and Lorde's breakout single, 'Royals.'
20

'Holy Grail'

Jay-Z Feat. Justin Timberlake

Now 43 years old, an accomplished entrepreneur and husband to one of the most successful women in the world, Jay-Z is in a very different place than he first started in the rap game. He acknowledges this reality and reflects on how far he's come on 'Holy Grail,' which features rhymes about his daughter, the paparazzi, and eating "vanilla wafers in a villa." Just in case the song wasn't already hot enough, the Nirvana interpolation and beautiful Justin Timberlake falsetto hook seal the deal.

19

'Started From the Bottom'

Drake

As one of the hottest MCs in the game, with multiplatinum records and a recent Grammy Award for Best Rap Album on his resume, Drake has earned the right to look back and marvel at his success. Next up on our list of the Top Songs of 2013 is Drizzy's autobiographical 'Started From the Bottom,' which chronicles his journey growing up from a modest background in Toronto to becoming an international hip-hop superstar.

18

'Work Bitch'

Britney Spears

Britney Spears proves that she still has it with 'Work Bitch,' the fierce new single off of her upcoming album. While the video shows off Brit's trim form and dance moves, the track 'Toxic'-level catchy. Our girl is back, and we couldn't be more excited!

17

Selena Gomez claims she wants to "slow down this song," but the track's energetic dance-pop vibe suggests otherwise. The second single from Sel's No. 1 album 'Stars Dance,' 'Slow Down' was created by 'Like a G6' producers the Cataracs and features the singer teasing a guy with sexy lyrics, even as she insists she wants to take things slow: "You know I'm good with mouth-to-mouth resuscitation / Breathe me in, breathe me out, so amazing."

16

Lady Gaga may not live for the applause, but that hasn't stopped her from releasing one of the best songs of the year. Mother Monster's electropop track is a critique on fame -- old territory for the singer -- but she manages to make the lyrics fresh. Only Lady Gaga could get away with comparing herself to a priceless piece of art.

15

A singer born in 1993 might not be expected to have such an appreciation for old-school R&B, but Ariana Grande transports us back to the '90s on 'Baby I,' the second single from her debut album. For added authenticity, the song was even co-written and produced by that decade's most prolific hitmaker, Babyface. Grande flaunts her voice and gets to channel some of her musical heroes, like Aaliyah and Destiny's Child.

14

'True Love'

Pink Feat. Lily Allen

In the same breath, Pink expresses a desire to hug and then choke her hubby in 'True Love,' a song that features the no-nonsense singer describing the classic "can't live with him, can't live without him" scenario. British singer Lily Allen adds a verse that sounds sweet but seems to mask a hidden layer of rage, which is revealed in the music video when she's depicted as a vegetable-cutting maniac. 'True Love' was Pink's fourth straight hit single from 'The Truth About Love.'

13

'Best Song Ever'

One Direction

One Direction can always be counted on to deliver a catchy, up-tempo pop tune, and their latest is no exception. In 'Best Song Ever,' 1D think back to a night dancing with a special someone. They've already forgotten the song, but they'll never forget the girl. Directioners helped the song debut at No. 2 in the U.S. Is 'Best Song Ever' really the best song ever? Not quite, but it's easily one of the Top Songs of 2013.

12

'Heart Attack'

Demi Lovato

Demi Lovato doesn't want to let herself fall in love, but she's struggling to resist the charms of one particular guy. That's the story behind 'Heart Attack,' the lead single from her next record. Supported by acoustic guitar and thumping electronic hand claps, the 'X Factor' judge sings, "Puttin' my defenses up / 'Cause I don't wanna fall in love / If I ever did that / I think I'd have a heart attack." Our favorite moment is when she brags that when it comes to guys, "I can play 'em like a Ken doll."

11

Chris Brown is a modern-day Michael Jackson on his electro-soul single 'Fine China,' where he croons, "When you're mine, I'll be generous / You're irreplaceable / A collectible, just like fine china." From the video to his ad-libbing, it's clear Breezy had the King of Pop in mind while recording the 'X' track. Even the smooth, midtempo beat has that throwback MJ vibe, but it still feels contemporary with the urgent backing synth and heavy percussion. This top song of 2013 is a groovy, dance floor jam that will keep your head bobbing and toes tapping.

10

'Thrift Shop'

Macklemore & Ryan Lewis Feat. Wanz

Macklemore and Ryan Lewis scored the surprise hip-hop smash of early 2013 with their ode to finding discarded treasure in the second-hand store. While Lewis spins an unstoppable beat and Wanz provides the baritone hook, Macklemore spits about scoring fox furs, zebra pajamas, a velour jumpsuit and a broken keyboard. The Seattle rapper made an intentional decision to contradict the typical hip-hop themes of living large and spending millions, and it worked out as fans everywhere embraced the tribute to budget living.

9

'Wrecking Ball'

Miley Cyrus

Miley Cyrus might have raised eyebrows with 'We Can't Stop,' but it's 'Wrecking Ball' that leaves us wowed. The power ballad is Miley at her best: Belting heartfelt lyrics with layers of emotion. The singer has been trying to convince us of her new, mature image and with 'Wrecking Ball,' she wins us over.

8

'When I Was Your Man'

Bruno Mars

Bruno Mars has a lot of regrets in 'When I Was Your Man,' when he thinks back to a special girl who moved on to another guy. Mars sings that he didn't mistreat her, but he didn't go out of his way to make her feel special. "I should've bought you flowers / And held your hand / Shoulda gave you all my hours / When I had the chance," he sings. The song was the second straight Top 5 hit from the Hawaiian crooner's 'Unorthodox Jukebox' album.

7

For the fourth single from her 'Red' album, Taylor Swift chose to release one of the poppiest songs of her career, '22,' a joyous anthem about being carefree while she's young. She does just that in the music video, dancing around with her girlfriends, hanging out on the beach at sunset, bouncing around on trampolines and partying late into the night. Swift sums it up: "We're happy, free, confused, and lonely at the same time / It's miserable and magical."

6

'Get Lucky'

Daft Punk Feat. Pharrell Williams

Daft Punk's absence is over, and the French duo are back at it in a big way on 'Get Lucky,' their first hit single since 2007. Instead of going for in-your-face EDM beats, Daft Punk recruited Pharrell Williams to croon on this disco-esque, lighthearted jam, an easily digestible and danceable tune not just for electro fans, but music lovers in general. After the second verse, where Pharrell sweet-talks a lady with his breezy voice ("The present has no rhythm / Your gift keeps on giving"), there's a killer breakdown that is one of the funkiest things we've heard in a long time.

5

'Mirrors'

Justin Timberlake

Critical reception to Justin Timberlake's comeback single 'Suit & Tie' was mixed, but even those who didn't appreciate the retro soul track seemed to enjoy JT's next offering, 'Mirrors.' The crooner sings that he's found his soulmate: "It's like you're my mirror / My mirror staring back at me / I couldn't get any bigger / With anyone else beside me." The eight-minute track ends with three minutes of falsetto cooing, reminding listeners that Justin is still the king of modern soul-pop.

4

'Stay'

Rihanna Feat. Mikky Ekko

Rihanna is the runner-up on our list of the Top Songs of 2013, not a familiar position for an artist who's used to hitting No. 1. Normally RiRi makes us dance, but 'Stay' is a vulnerable ballad using little more than piano and vocals to describe a tortured relationship. The song introduces the world to the voice of Mikky Ekko, who co-wrote the track, and features one of Rihanna's most impressive vocal performances as she reveals a more personal and intimate side.

3

Katy Perry is fierce and ferocious on 'Roar,' the empowering track from her brand-new album 'Prism.' Who would've thought that documenting a dark time in her life could have resulted in such an optimistic song? "I am a champion and you're gonna hear me roar" is the sing-along slogan of the summer. Combining Perry's catchy pop style with a healthy dose of lyrical aggression is a magical formula, so it's no wonder the song shot up the charts so quickly.

2

Newcomer Lorde stormed the charts with 'Royals,' her first single. Amidst songs celebrating material goods, the New Zealand native reminds us that there's more to life than an expensive timepiece -- and she set it to a super-catchy beat. With a debut like this, we can't wait to hear what other wisdom she has to offer.

1

'Blurred Lines'

Robin Thicke Feat. Pharrell + T.I.

With a sound heavily inspired by Marvin Gaye's 'Got to Give It Up,' Robin Thicke smooth talks the ladies on his smash hit 'Blurred Lines.' The bouncy track, our pick for Top Song of 2013, features T.I. and Thicke's "hey, hey, hey" hype man / co-writer / producer, Pharrell. Combining his love for old-school R&B with his suave, lady-killin' persona, 'Blurred Lines' finds Thicke at his Top 40 finest. The song has been inescapable since its release, thanks to the funky, disco backbeat, saucy lyrics, and Thicke's unbelievable voice, which ranges from crazy high falsetto to deep, soulful sexiness.