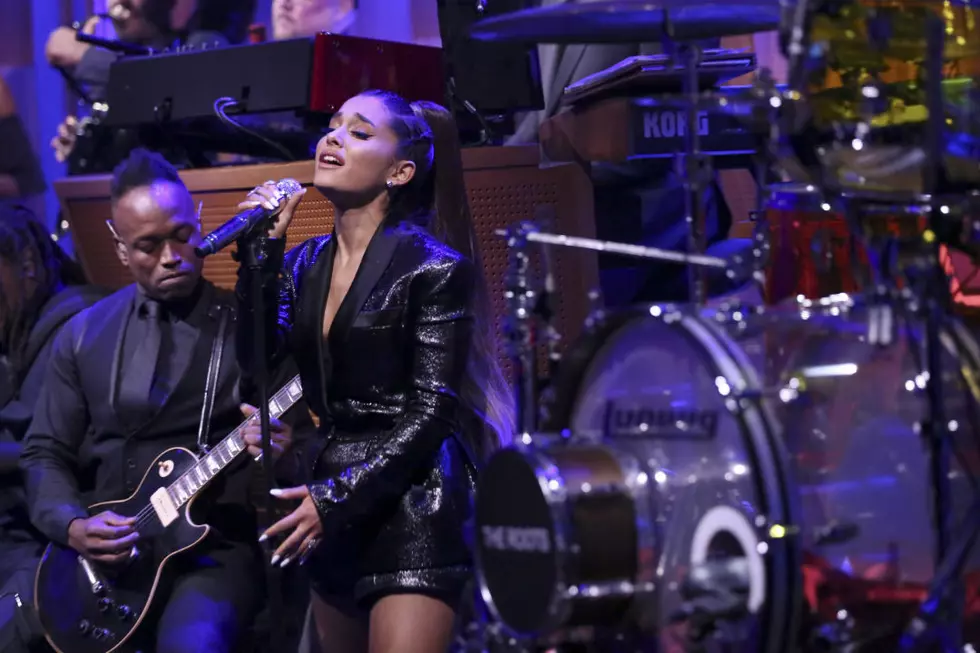 Ariana Grande Delivers Emotional Tribute to Aretha Franklin With 'Natural Woman'
Getty Images
Ariana Grande opened The Tonight Show Thursday (August 16) by performing Aretha Franklin's "(You Make Me Feel Like) A Natural Woman" alongside The Roots in tribute to the iconic singer who died earlier in the day at the age of 76.
Grande, who was also joined by three backup singers, performed the song in all black on a dimly lit stage. The emotional tribute received a standing ovation from The Tonight Show audience.
Grande told host Fallon that she once received a surprise phone call from Franklin who wanted to send her music made by one of her family members.
"She goes, 'Hi, it's a Aretha.' I was like, 'Franklin?'" Grande said of the exchange before noting how the music legend needed to mail the music to her on a CD due to not knowing how to send it over digitally.
Franklin died in Detroit of an undisclosed illness for which she was hospitalized for on Monday, her publicist announced.
Grande's Tonight Show appearance also featured the pop star discussing her new album Sweetener and how she predicted getting married to her fiance Pete Davidson years ago.
"We met on SNL, like, two, three years ago," she said of Davidson. "We never, like, exchanged numbers or anything, we weren't even friends for a long time, but I had the biggest crush in the whole world on him."
"I left and I jokingly said to my tour manager, I was like, 'I'm marrying him, 100 percent.' I was like, 'I'm literally marrying him,'" she continued.
Sweetener, which arrived on Friday, features the singles "No Tears Left to Cry," "The Light is Coming" featuring Nicki Minaj and "God is a Woman." The project also contains a song dedicated to her fiance titled "Pete Davidson."
By Wade Sheridan, UPI.com
Copyright © 2018 United Press International, Inc. All Rights Reserved
Ariana Grande's 15 Most Memorable Music Video Looks