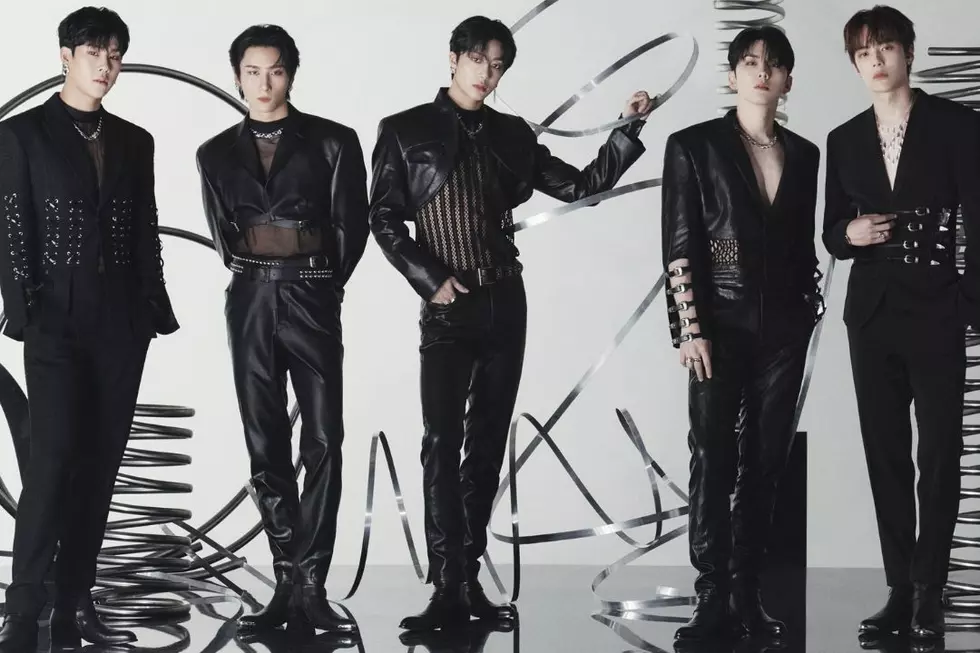 Monsta X Reveal Their Favorite Songs From Genre-Blending 12th Mini-Album 'Reason' (Q&A)
Courtesy of Starship Entertainment
In a video posted to Monsta X's social media, member Minhyuk described their new single "Beautiful Liar" as a "powerful funk rock" song that is "so addictive." That power was the perfect kick-off to the group's 12th mini-album, Reason, released Jan. 9.
Setting the tone for 2023, Reason's rich musical layers — from R&B to traditional Korean music and explosive rap — showcase MONSTA X at their absolute best.
"I can do this all day," members Minhyuk, Kihyun, Hyungwon, Joohoney and I.M chant on genre-blending track "Crescendo." (Leader Shownu is currently serving in the military.) They prove that statement throughout the second half of the album, thanks to tracks such as the Hyungwon-produced banger "Lone Ranger" and R&B-tinged "Deny," written by I.M.
The music video for "Beautiful Liar," meanwhile, finds Monsta X in visually captivating settings involving everything from chains to horses. Viewers are lured into following their every move, unwittingly bopping their heads along to the pulsing rock undertones along the way.
Below, the dynamic K-pop group tells PopCrush about their Reason concept photo series, how their relationship has evolved in the eight years since they debuted and what kind of music they're drawn to.
Which song on Reason are you most excited for MONBEBEs [fans] to hear, and why?
Joohoney: "IT'S ALRIGHT" because it suits well with the cold weather as it's giving off the warm feelings. I'd like to feel this warmth with our MONBEBE. Also, "LONE RANGER" from the album, which expresses the sexy mood that Hyungwon possesses.
Minhyuk: "Deny." I think the vibe of the song and emotions related to it fit me well so MONBEBE would like it.
Which concept version does each member connect with most?
Minhyuk: The fourth one! I'm into arts and painting so I think it suits me well.
Kihyun: The fourth concept photos. The idea and concept behind it was "muse" and the use of a photo frame was epic.
I.M: I like the first concept best. Cold and icy, I love it.
Hyungwon: The fourth one had a unique idea behind it.
Joohoney: The first one! Photos look nice and chic!
Because you are very active in the creation of your music, how does it work when you collaborate in the studio with each other?
Joohoney: Since I actively participate in creating our music, it feels like I get more freedom when it comes to expressing my music/myself and our team color. When we are all together in the studio, we get this synergy to make deep, enriched sound.
Do you have any routines or must-haves to get into the zone in the studio?
Hyungwon: I always go to the gym before going to the recording studio.
What sounds or particular instruments do each of you like to hear in music? What is your favorite thing to add to a song? The addition of the guitar on "Beautiful Liar" is such a cool twist!
Minhyuk: My heart beats whenever I hear the bass sound!
Kihyun: I personally love rock so I really liked the sound of electric guitar coming out from the intro of "Beautiful Liar."
I.M: I like the sound of electronic piano and also the acoustic (regular) piano sound.
Hyungwon: I like the sound of strings.
Joohoney: I love it when beats are fresh and unique.
Are there any funny or special behind-the-scenes moments from the set of the "Beautiful Liar" music video that you can share with MONBEBEs?
Minhyuk: The weather was freezing with lots of snow. I remember me and all the supporting actors were shivering and when the shooting was done, we all felt a sense of freedom from the coldness.
On "Crescendo," what inspired you to combine drill music influence with traditional Korean instruments?
Joohoney: I just wanted to combine two sounds together to make a new sound. There was no special inspiration behind it.
Did you listen to any particular music other than your own that inspired you during the making of this album? If not, what's on your playlists now?
Minhyuk: I soothe myself with music that is good to listen to. "Ditto" by NewJeans is on my playlist now.
Since one of the themes behind Reason is exploring meaning in relationships, how has your relationship as a group evolved since your debut?
Kihyun: As we rely on each other and share good and bad things all together, I think we've become a family.
Minhyuk: I think our relationship has evolved from members to friends, then from friends to family.
Most Unique K-Pop Light Sticks Ever
From magical scepters to baseball bat, here are some of the most unique and fun K-pop light stick designs.