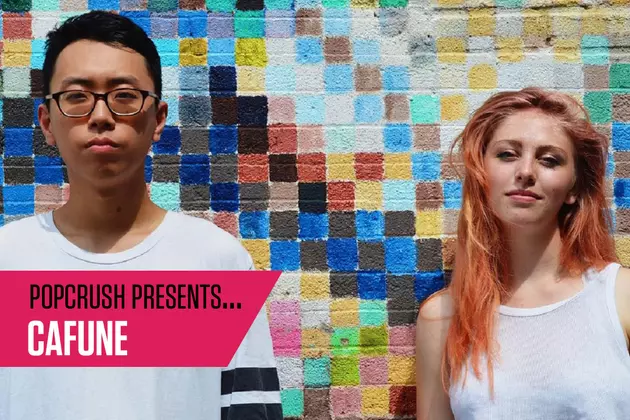 PopCrush Presents: CAFUNE
Peter Slattery
Every week at PopCrush, we put the spotlight on one up-and-coming act you need to know about. Why? So you can get on board early before everyone else and their mother jumps on the bandwagon…and so you can be that one friend in the group who's always like, "Um, actually, I prefer their earlier work."
From the native Brazilian Tupi language — and later adopted into Brazilian Portuguese — cafuné roughly translates to the gesture of running one's fingers through a lover's hair. Coincidentally, the sensation is precisely how listening to Brooklyn duo CAFUNÉ makes you feel: warm, tingly and joyfully present.
Singer-songwriter Sedona Schat and producer Noah Yoo first met while attending class together at New York University's Clive Davis Institute. The two quickly formed a band after completing a course project in which they found a shared musical chemistry, and the independent twosome has been churning out effervescent alt-pop and surprising covers — including a surfy, mid-tempo reimagining of Drake's "Hotline Bling" — on their SoundCloud ever since.
In December 2015, CAFUNÉ dropped their debut EP, Love Songs For Other People, a collection of sparkling, synthy pop tunes featuring Sedona's smooth, honeyed voice and groovy, bright dance production courtesy of Noah.
Warm and tropical, the pair's lead single, "Warm Body," perhaps best sums up their sound, with twinkling electronics, lush freestyle beats and synths that frantically stab around peaks of ethereally-layered vocals. The record's opening track, "Lay Low," showcases CAFUNÉ at their most melodic and fizzy — its sunny, swirling production bubbles, pops and refreshes like an ice cold bottle of coconut soda.
In May, the duo released their latest single, "Don't You Forget." A bouncy slice of upbeat, chilled-out pop, its breezy synth-line carries Sedona's lilting voice as she sings of self-love: "Put some red on your lips / Give your reflection a kiss / To try to make it feel right, to try to make it feel..."
While the band has been around since the summer of 2014, they made waves in March 2016 when a video of a Pharrell-hosted NYU Masterclass went viral, showcasing "Don't You Forget" alongside music from other artist students, including much beloved "Alaska" electro-folk songstress Maggie Rogers.
"Meeting Pharrell was pretty nerve-wracking," Noah told PopCrush about the experience. "We had no idea what to expect and we didn't even really know for sure that it was going to be him until he walked in through the door. I'm overwhelmingly grateful for the entire experience. People say don't meet your heroes, but Pharrell was generous with his feedback and it's a moment I'll always cherish."
CAFUNÉ is currently collaborating with their favorite producers on a remix EP, which will feature remixes of select tracks from Love Songs For Other People, as well as working on new original music. While the duo is taking it slow and steady in the studio, their co-sign from the "Happy" maestro and their glistening, growing self-released discography indicates that it's only a matter of time before Sedona and Noah hit the fast lane.
Who would you like to see featured in PopCrush Presents next? Tweet us at @popcrush with your recommendations using #PopCrushPresents!