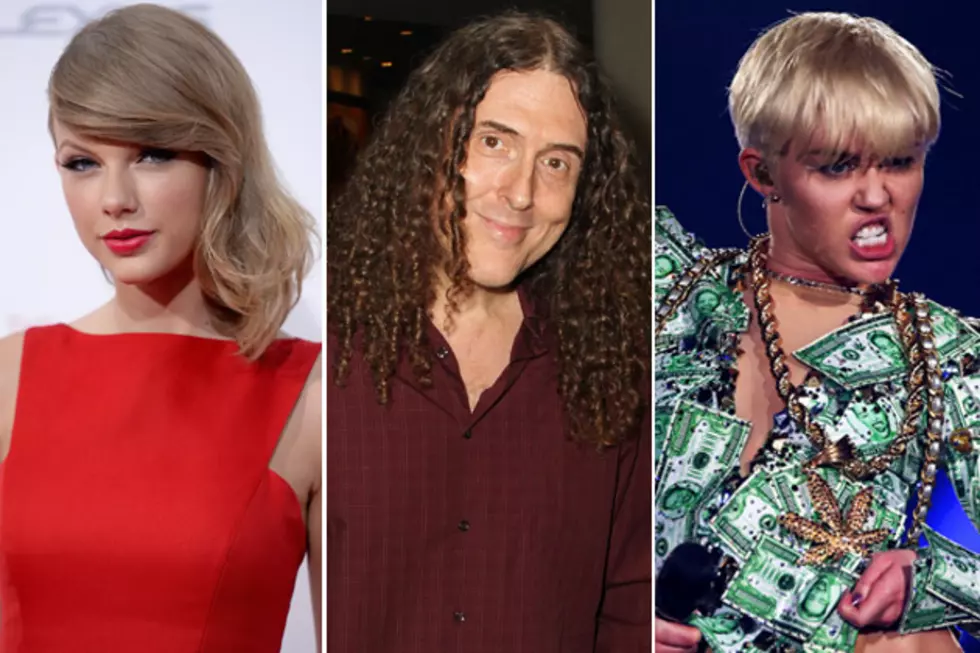 Who Should Star in the 2015 Super Bowl Halftime Show? – Readers Poll
Dimitrios Kambouris/David Buchan /Simone Joyner, Getty Images
When 'Weird Al' Yankovic's fans started circulating a petition to get the parodist to perform at the 2015 Super Bowl, it got us wondering: Which artist would you like to see perform at halftime? From Weird Al to Taylor Swift to Miley Cyrus to 5 Seconds of Summer to One Direction, which artist should star in the 2015 Super Bowl Halftime Show?
Weird Al may be the most unexpected artist on our list, but hey, his fans are the ones who started the whole thing, organizing a petition on Change.org to get the 'First World Problems' singer to perform at halftime. There's no better time for Al to perform than in 2015, just a few months after he released his first No. 1 album, 'Mandatory Fun,' and once again won all of our hearts with his genius eight-videos-in-eight-days campaign. Plus, can you imagine him performing 'Tacky' or 'Word Crimes' live? Amazing.
Taylor Swift is busy working on her new album, so early 2015 would be the perfect time for her to perform some of her new songs live. We already know that T. Swift has the stage presence to support the halftime show, and to be honest, we're just itching for her to bring her new material out into the open and share with the fans. What better place than in front of millions at the Super Bowl?
Oh, Miley Cyrus. If her Bangerz Tour is any indication, Miley could pose somewhat of a risk at the 2015 Super Bowl Halftime Show, especially if producers are worried about a Justin Timberlake-Janet Jackson moment happening again. But if Miley toned it down just a little bit, you know she'd put on a seriously killer show -- complete with some pretty shocking surprises.
5 Seconds of Summer are currently on top of the world right now and are planning to go even harder in 2015, embarking on headlining tours in both the U.S. and Europe. But fortunately for us, they leave just a little gap in there to possibly perform at the 2015 Super Bowl. And we can't even deny that they'd absolutely slay it, considering they put on a seriously energetic and passionate live show.
One Direction are easily the biggest boy band in the world, so they're totally used to owning those stadium stages and performing in front of enormous crowds night after night. We know the guys are super into British football (or soccer, to us Americans) so we suspect that they'd love to be a part of a traditional American football event, especially one as prestigious as the Super Bowl Halftime Show. And is there any doubt that the guys would seriously crush the performance? We think not.
Who do you most want to see perform at the 2015 Super Bowl Halftime Show? Cast your vote for Weird Al, Taylor Swift, Miley Cyrus, 5SOS or One Direction in the poll below!
See Taylor Swift + More Celebs' Yearbook Photos