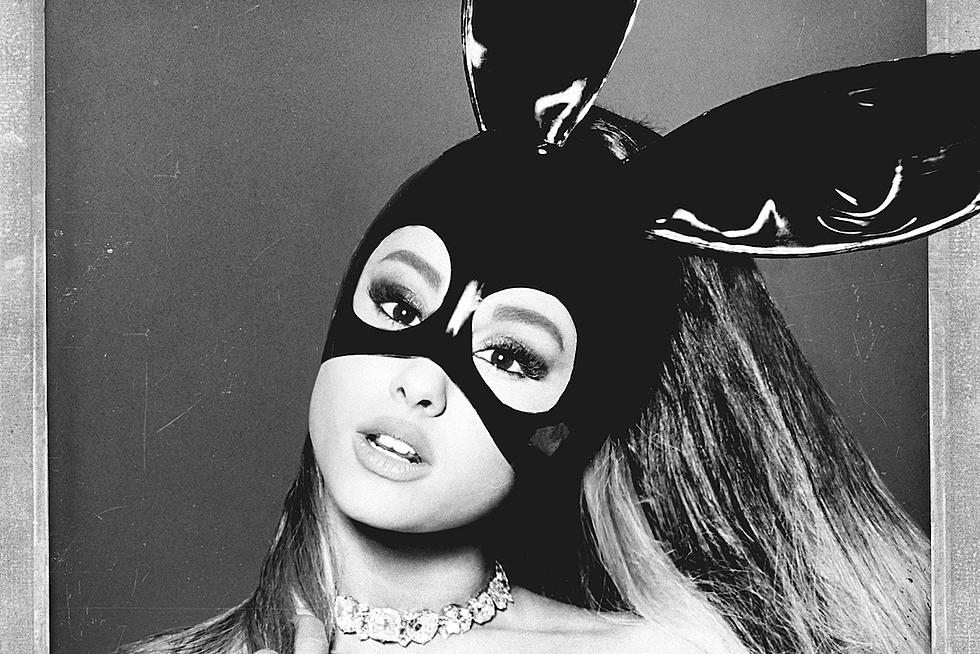 Ariana Grande Is Finding Herself and Feeling Herself on 'Dangerous Woman'
iTunes
The cover for Dangerous Woman, Ariana Grande's third studio album, finds the Pop Star With the Best Ponytail in the Game wearing the same shiny black latex bunny mask she'd sported both in press shots rolled out across her social media accounts and in the title track's a capella video. This new look isn't just a (slightly) more adult twist on her previous cat ears phase; Grande recently told Billboard that "Super Bunny" is an alter ego: "Whenever I doubt myself or question choices I know in my gut are right — because other people are telling me other things — I'm like, 'What would that bad bitch Super Bunny do?' She helps me call the shots."
Beyonce-ologists will recall that Bey channeled her own agent of personal power strength for her own third album, 2008's I Am...Sasha Fierce, before declaring her 'dead' two years later. "I don't need Sasha Fierce anymore, because I've grown and now I'm able to merge the two," she told Allure in 2010. Like Ariana's Super Bunny, Sasha was a transitional totem that provided space for creative self-exploration, and fans got some great songs in the process. It also paved the way for the visual-album-springing, "middle fingers up" powerhouse Beyonce's become today. With Dangerous Woman, it's clear that Grande aims to forge a similarly upward artistic trajectory.
Yes, Ariana wants us to know she's all grown up now, and early reviews have echoed the "She's not your Nickelodeon princess anymore!" narrative. That's accurate, if certainly not the whole story here musically, and Ari still situates her grownness within well-tread good girl/bad girl binaries. She makes lots of vague references to her newfound naughtiness in songs like "Bad Decisions," the Future-featuring "Everyday," and the excellent slow-burn title track. What are these exact things she wants to do, but shouldn't? S&M? Gun mollery? Slipping foreign currency into a tip jar because you need to get rid of these leftover euros? Further doughnut licking with backup dancer/rumored boyfriend Ricky Alvarez?
Dreamy doo-wop opener "Moonlight" (one of the album's most innocent moments; it's telling that Ari abandoned it as her original title track) serves glorious specificity such as "I kiss his fingertips As I'm wishing he's all mine / He's giving me Elvis with some James Dean in his eyes." But when it comes to the darker stuff, Grande and her co-songwriters — including hitmakers Max Martin and Savan Kotecha, as well as longtime collaborator Victoria Monet McCants — prefer double entendre and broad raves like "You give me that good sh---t/That make me not quit"; that latter line sounds a whole lot dirtier ("...did she just say 'nut quick'?!") if you take Grande's still-shaky enunciation at face value.
If the album lacks cohesion, well, cohesion doesn't seem to be the goal — Ariana's got layers and she's ready to show them off, from the funky dance-rock of "Greedy" to the reggae vibes on "Side to Side," Ariana and Nicki Minaj's latest delightfully dirty team-up (though I prefer The Pinkprint's "Get On Your Knees," Nicki's line "dick bicycle / If you want a Minaj-ay I got that tricycle" is so bad it's snort-laugh-good here). And who can blame Ariana for wanting to impress now that she's become who she really are? After a year in which she released the disappointing "Focus" and was voted least-liked celebrity alongside BILL COSBY, she dropped a free passion-project Christmas EP, dazzled new audiences on Tonight and SNL and emerged as The Unburnt on the other side. If Ariana feels like she's got something to prove, she's probably right — and fortunately, she just proved it.
Dangerous Woman is chock full o' bops — I'm still learning Ariana's SNL vogue-lite armography in her performance of jubilant house track "Be Alright" —  as well as introspective self-acceptance moments as on "I Don't Care" (which is a distant cousin-in-sound to "Honeymoon Avenue" from her debut album). And Ariana's experimentation with various genres, personas and themes are befitting of any 22 year old still navigating their new adult identity, particularly when they're shedding a former G-rated one they had just a small hand in creating. Strong on its own, Dangerous makes me that much more interested in where she'll be four, five or six albums in, long after she's declared Super Bunny dead: Ariana's effectively set the stage for pop longevity.
Ariana Grande's Best Live Moments