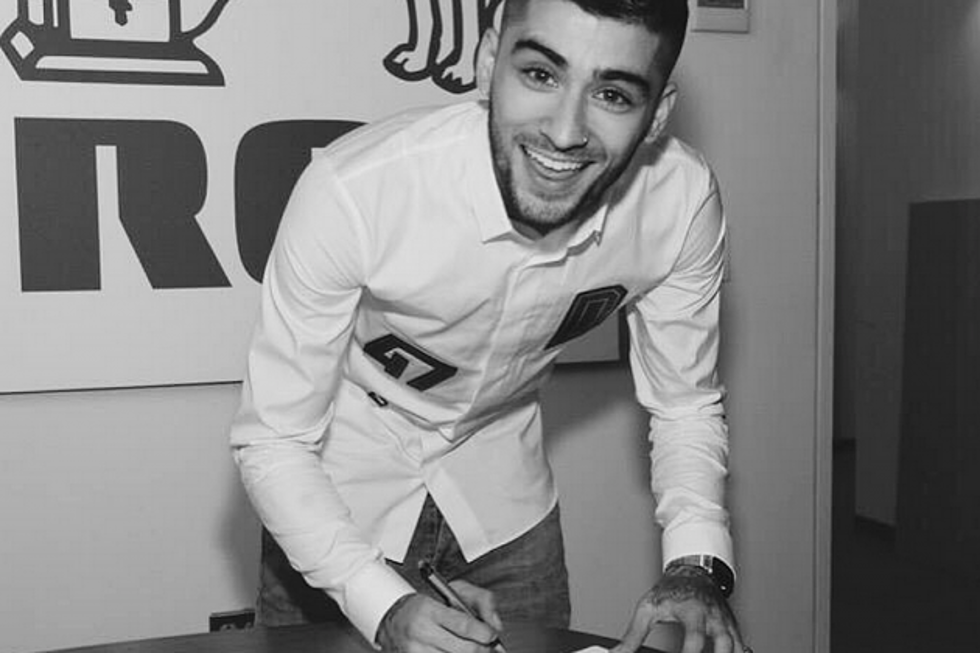 Will Zayn Malik's Debut Solo Album Feature Chris Brown and Tyler, The Creator?
Instagram: @zaynmalik
Zayn Malik's solo deal is signed, sealed, delivered (and Instagrammed) with RCA Records. And now, it's just a matter of time before we get a taste of what his post-One Direction "real music" sounds like. But considering the public offers for collaborations he's been getting, it doesn't quite sound like he's going to be all alone of this new record, either.
While the newly emancipated solo star, who recently sent shockwaves through the Directioner fandom (yet again) after breaking off his engagement with Little Mix's Perrie Edwards (possibly maybe by text message), has been busily preparing to make his solo debut, a few famous friends have been voicing their support of his new endeavor — including Chris Brown.
During an interview with Capital FM over the weekend, the X singer confirmed that he'd absolutely step into the booth with Zayn or, as he referred to him, his "homeboy":
"Of course, of course, [I'd work with him]. "I don't shy away from anyone and I think he's a great artist. Now he's doing his solo thing, I know he has a huge fan base and the fans are waiting to hear his stuff, so it would be cool to get down and collab."
The pairing seems more than likely: Not only are the two labelmates now, but Zayn's shown plenty of love for the constant controversy-sparking "Yeah 3x" singer over the years, including the time he got some Twitter heat for tweeting about how much he loved "Don't Judge Me" in 2012, as well as an impromptu livestream cover of "With You" way back in 2010.
And Breezy's not the only one offering up a collaboration: Tyler, The Creator wants to get in the studio, too.
Over the weekend, the former Odd Future leader tweeted an open invitation to Zayn to work on some "epic album cuts."
"HI @zaynmalik I HAVE BEAUTIFUL INSTRUMENTALS AND YOU HAVE A VOICE LETS FIGURE THIS OUT MY GUY . EPIC ALBUM CUTS THO NO RADIO SINGLES," he wrote.
Judging by the sudden outpouring of public collaboration pleas, it won't be hard for Zayn to find studio time with his favorite superstars. The question is: Who does Zayn want to work with?
See Zayn Malik and More Celebrities' School Photos